2015 Wellbeing April Optimism
Optimism "Be Optimistic."
It's such a simple sentence, but so difficult to put into consistent practice. They say some people are born pessimists and some are born optimists. I'm sure that's true to a degree, but I also agree with Leo Tolstoy's take on it: "If you want to be happy, be." How you ask? To answer that, we turn to another literary giant, Mark Twain, who pointed out: "The best way to cheer yourself up is to try to cheer somebody else up."
Try it, it works! Change your routine, break out of your comfort zone, stop throwing your own personal pity party, and help someone out. Volunteering is great for your soul, and when you're getting out, meeting others, and helping them you grow in ways you can't imagine.
It's springtime, when nature's perpetual optimism reasserts itself. We hope this month will help you gain a sunnier perspective and renewed sense of all the possibilities each new day brings.
Event – Turnstone Road Show April 10th

Join us for a quick hands on, interactive product experience and get a first look at our exciting new products. You can win a free Buoy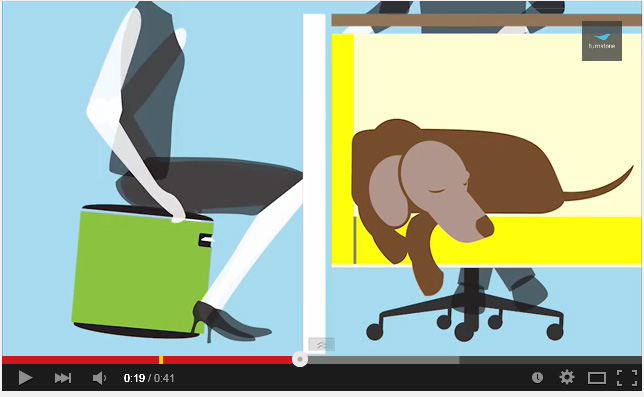 It's opening week for the Greenville Drive so after the tour enjoy baseball fare and a brew in the 500 Club and watch the Master's on the big screens.
Get your tickets now don't miss it!
April 1st Fun At Work Day Everyone needs a little unstructured fun in their day, and Fun Day is perfect for having time dedicated to exactly that. In today's high speed world with its constant pressure to go farther, get more done, be more productive, and climb in our career, having a little fun often goes by the wayside. The stress of this lifestyle has been shown to have a constant and growing negative effect on the overall health of people. Fun Day is a reminder to break the stressful line of day to day living, and to go out and have some Fun!
Having Fun is a proven way to make sure you have the opportunity to have more fun later, more often. Stress has negative effects on your immune system, making it easier to get sick, and making you stay sick longer. By going out and having Fun, you can reduce your stress level, and help bolster your immune system. For you workaholics out there, this means by slowing down and having fun, you'll also have more days to work in by making sure you have less sick days, and who couldn't use that?
Knowing that first impressions can't be redone, Fun Day also reminds us that stress has a dramatic effect on our appearance. Skin becomes more sallow, acne outbreaks more frequent, and it becomes harder and harder to get rid of those bags under your eyes if you're stressed all the time. After all, high stress levels lead to not sleeping as deeply or as long, with insomnia being a major side-effect of having stress, and nothing makes someone look and feel better than a good night's rest!
Fun also gives you a major boost to your mood, every time you smile or laugh you get a boost of endorphins. Endorphins are one of those chemicals the body releases that makes you feel confident and satisfied with life in general. While you can get a similar effect by eating chocolate, just getting out and having a good time will boost your emotional state without increasing your waistline with it!
Fun also helps create bonds between people in a social environment, nothing brings people and loved ones together like having a good time. There is little in our lives that isn't improved by having fun with a group, whether as part of a BBQ, a night out at the movies, or just getting together and kicking around a ball. If you find your life lacking in Fun, make it a priority to go out and participate things you enjoy that aren't all centered on work.
We all want to live longer, and who can blame us? Well, if you're looking for a great way to extend your life and improve your health, guess what's a proven way to do that? Get out and have some fun, and try to keep your mind in a positive attitude. Doing so can add an additional 8 years to your life, just by making sure you keep your mind off of stressful things and getting out to have a little Fun now and then!
A life without Fun is one hardly worth living, so use Fun Day to get out and have a fantastic time. Get together with friends, get yourself to the movies or out on the Golf Course. All of these will lead to a longer, happier life for you and those you bring with you. Fun Day may only come once a year, but don't let it be the only day of the year you have fun on!
April 9th Project Pinwheel Project Pinwheel is a collaborative project to promote the protective factors every family can adopt to help keep children safe and secure. The purpose of Project Pinwheel is to help spread the good news of the work being done in the upstate, and to promote those little things every family can do to help keep children safe and secure. Project Pinwheel features a broad coalition of over 300 partners including childcare providers,churches, nonprofits, businesses, and our incredibly engaged faith community. This project is coordinated with leadership provided by Greenville First Steps. Young Office will plant our pinwheel garden on April 9th. Each pinwheel has a beloved child's name from our employees and owners attached.
Project Pinwheel Features
Pinwheel Gardens – Over 45,000 pinwheels planted across the upstate symbolizing healthy, happy childhoods
Walk for Prevention – Annual gathering to walk together in support of prevention efforts and plant South Carolina's largest pinwheel garden
Pinwheel Tales – A children's compilation CD featuring stories and songs told by local artists and community leaders
Week Of the Young Child – National celebration of children 0-5 years of old featuring family events and childcare staff trainings
Resource Guide – Provide print and online information to the community about what everyone can do to protect children
Celebration Sunday – Area churches take time to celebrate families and talk about child abuse prevention to their congregation
Greenville First Steps is a local 501c3 working to build community partnerships to help children enter school on track and ready for early school success. Greenville First Steps use state funds to leverage local private dollars and others funds to build collaborative public-private partnerships with local schools, churches, businesses and non-profits. You can learn more at www.greenvillefirststeps.org
April 14th International Moment of Laughter Day! When was the last time you gave yourself permission to laugh out loud in public? Well, get ready to do it again, because April 14 has been set aside to do just that, according to "America's Humorologist" Izzy Gesell.  To encourage more people to laugh, he invites America and the whole world to join in the fun on April 14, the planet's International Moment of Laughter Day.
You can celebrate by:
Laughing out loud at the funny cards in a greeting card shop
Calling a friend to share a funny story
Buying a "laugh-box" in a joke shop and turning it on at work or at home
Showing your baby pictures to someone who's never seen them
Thinking up your own way to get someone else to laugh with you

Or just laughing for no apparent reason at all
Izzy Gesell, a professional speaker, trainer, author and humor consultant is the head honcho of Wide Angle Humor, the company that guarantees to broaden your smile and jiggle your belly. "Laughter comes right after breathing as just about the healthiest thing you can do." says Izzy. "It relieves stress, instills optimism, raises self-confidence, defuses resistance to change, and enhances all your relationships."  As a humorologist, Gesell not only makes humor work on many different levels, he even knows how it works. "That's the difference between a humorologist and a comedian" he says. "I'm interested in the science and structure of humor, as well as its delivery. I'm like the magician who takes you backstage and shows you how the tricks work."  Izzy's programs are designed to tickle the funny bone while sending ripples through both halves of the brain, arousing the cognitive senses. More than lifting the spirits of his audiences, he boosts their self-esteem. Not only do people laugh at Izzy's presentations, they learn how to laugh more often by increasing their "laugh-ability." 
April 22nd Earth Day – Earth Day's 45th anniversary – could be the most exciting year in environmental history. The year in which economic growth and sustainability join hands. The year in which world leaders finally pass a binding climate change treaty. The year in which citizens and organizations divest from fossil fuels and put their money into renewable energy solutions. These are tough issues but we know what's at stake is the future of our planet and the survival of life on earth. On Earth Day we need you to take a stand so that together, we can show the world a new direction. It's our turn to lead. So our world leaders can follow by example.
Sustainable Development One billion people still live on less than $1.25 per day. One of the biggest controversies over a treaty has been the issue that developing countries don't want to give up economic growth no matter the environmental cost, since the US and other developed countries got to pollute their way to the top.
Those most affected by climate change are low-income or marginalized populations. The Pacific Island nation of Kiribati, for example – one of the poorest places on Earth — was the first country to declare its land uninhabitable due to sea level rise from climate change, and has asked for help in evacuating its population. Even more people will fall into poverty and food will become more scarce if we don't stop our misuse of the planet.
Eradicating global poverty is possible, but only in a world where all countries commit to a low carbon future. We've got the technology. All we need is the will. Sustainability can be the answer to development, the only answer.
Programs Year-round, working with over 22,000 partners and organizations in 192 countries, Earth Day Network pursues its mission to broaden, diversify and mobilize the environmental movement through a variety of education, public policy, and activism campaigns.
In Education, Earth Day Network is already a recognized leader in greening schools and environmental education curricula. Its Green Schools Campaign, in partnership with the U.S. Green Building Council and The Clinton Foundation, aims to green all of America's K-12 schools within a generation. EDN's Educator's Network, used by over 30,000 teachers nationwide, provides innovative education tools to promote civic participation and to develop a sense of environmental awareness.
Earth Day Network's Policy Team, working closely with the Education Team, identifies legislative opportunities on the federal, state, and local levels that promote and fund environmental education, green school facilities, and enable the shift to a carbon-neutral economy.
With respect to activism, EDN successfully leverages the power of Earth Day each year to strengthen, expand, diversify, and mobilize its partners and the general public worldwide to demonstrate their environmental commitment.
Local Earth Day Events
Greenville – TCMU is excited to celebrate Earth Day with a day full of themed activities like recycled art and hands-on science demos to teach your child how important taking care of the earth is! All ages. Free with admission. You can register here.
Herndersonville – Trees make a world of difference—this is your opportunity to make a difference for them. And there are a lot of ways to get involved. Stop by the Art MoB gallery and learn how to make paper from re-cycled junk mail. All materials are supplied, and you get to take home a piece of paper made by you. There is a Earth Day contest that you can enter run by Arnold Grummer Paper Making for a 50.00 shopping spree in their store. You can register here.
App: Get Happy
Buy it on Itunes
Book: Happiness Project by Gretchen Rubin
Gretchen Rubin had an epiphany one rainy afternoon in the unlikeliest of places: a city bus. "The days are long, but the years are short," she realized. "Time is passing, and I'm not focusing enough on the things that really matter." In that moment, she decided to dedicate a year to her happiness project.
In this lively and compelling account, Rubin chronicles her adventures during the twelve months she spent test-driving the wisdom of the ages, current scientific research, and lessons from popular culture about how to be happier. Among other things, she found that novelty and challenge are powerful sources of happiness; that money can help buy happiness, when spent wisely; that outer order contributes to inner calm; and that the very smallest of changes can make the biggest difference.
Buy it on Amazon
Aromatherapy: Cedarwood Oil Cedarwood Essential Oil is extracted through the process of steam distillation from the wood pieces of the Cedar Wood tree, which has the scientific name Juniperus Virginiana (also known as Cedrus Doedara, Cedrus Atlantica, and Cedrus Libani, depending on the regions where they are found) in other nomenclature systems. However, the complicated names of cedar wood essential oil do not affect the medicinal uses of the oil, of which there are many.
Cedarwood is basically a plant native to cold climates and is normally found at high altitudes. The chief components of Cedarwood Essential Oil are Alpha Cedrene, Beta Cedrene, Cedrol, Widdrol, Thujopsene and a group of Sesquiterpenes, which contribute a great deal to its medicinal value and health benefits.
Emotional Benefits:  According to "The Aromatherapy Bible" by Gill Farrer-Halls, Atlas cedarwood and Virginian cedarwood have many of the same emotional effects. Atlas cedarwood is believed to yield a more quality cedar oil that is safer to use. Both have a masculine scent and are believed to be useful in easing fear and nervousness, reducing tension and stress. Atlas cedarwood is thought to aid in boosting courage and bringing forth inner strength. According to "The Illustrated Encyclopedia of Essential Oils" by Julia Lawless, the cedar oil that comes from the Texas cedarwood may also be used to ease stress, anxiety and nervousness.
Derived from majestic evergreen trees that sprout on the slopes of the Himalayas in northern India, Pakistan and Afghanistan. With a high amount of essential oil in Cedar trees, the trunk and branches are extraordinary fragrant.
Botanical Name: Cedrus deodora
Aromatic Aroma: Cedarwood possesses a dry, woody aroma with warm and sweet undertones.
Consistency: Thin
Aroma Strength: Strong
Extraction Method: Steam Distilled
Plant Part: Wood
Origin: India
Color: Yellowish to brownish yellow
Common Uses: Cedarwood is used to treat acne, dandruff, eczema, stress, hair loss, greasy skin, fungal infections because of its antiseptic, anti-putrescent, anti-seborrheic, aphrodisiac, astringent, diuretic, expectorant, fungicidal and sedative properties. It is also used to increase circulation for achy muscles and sore joints.
Blends Well With: Rosewood, Bergamot, Cypress, Cassia, Jasmine, Juniper Berry, Neroli, Frankincense, Clary Sage, Vetiver, Rosemary and Ylang Ylang.
History: The ancient Egyptians are the first known civilization to have used Cedarwood's remarkable power for embalming, cosmetics and perfume. Many Tibetans still use Cedarwood as temple incense and in healing practices.
Safety: Although Cedarwood is a nontoxic, non-irritant and non-sensitizing essential oil, it is best to avoid during pregnancy.
Source: http://www.edensgarden.com/products/cedarwood#.VRrgc-HG-ao
Steelcase Statistic: 19:1 Ratio of dollars spent on medical service versus prevention
#bewellwithus