Classrooms can be owned or shared, small or spacious, new or old. One thing they should always be is flexible. Our designers understand that education is an ongoing, organic process that constantly changes and varies by learning space. Recently, Young Office worked with local K-12 & Universities to develop classrooms that focus on Active Learning.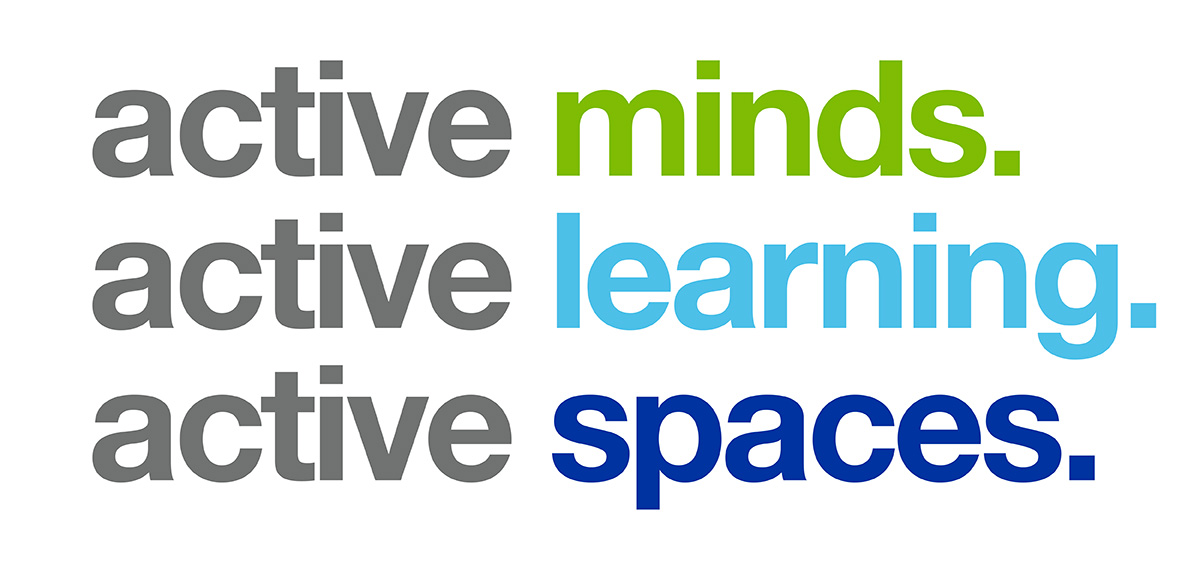 Active learning assumes student involvement in content sharing and building new knowledge, leading to greater student engagement, comprehension and ownership of information. Collaborative work is essential to active learning, suggesting that classroom spaces must be varied and flexible. A "one-size-fits-all" classroom neglects the modern-day needs of educators and students. Different subjects and teaching methods require different mixes of furniture, technology, and space. Just as there are a variety of ways in which we learn, there must also be a variety of spaces in which learning occurs.
The library is the academic heart of a school, but just as education is changing, so too is the library.  A new library doesn't necessarily require more real estate but simply rethinking how space is used.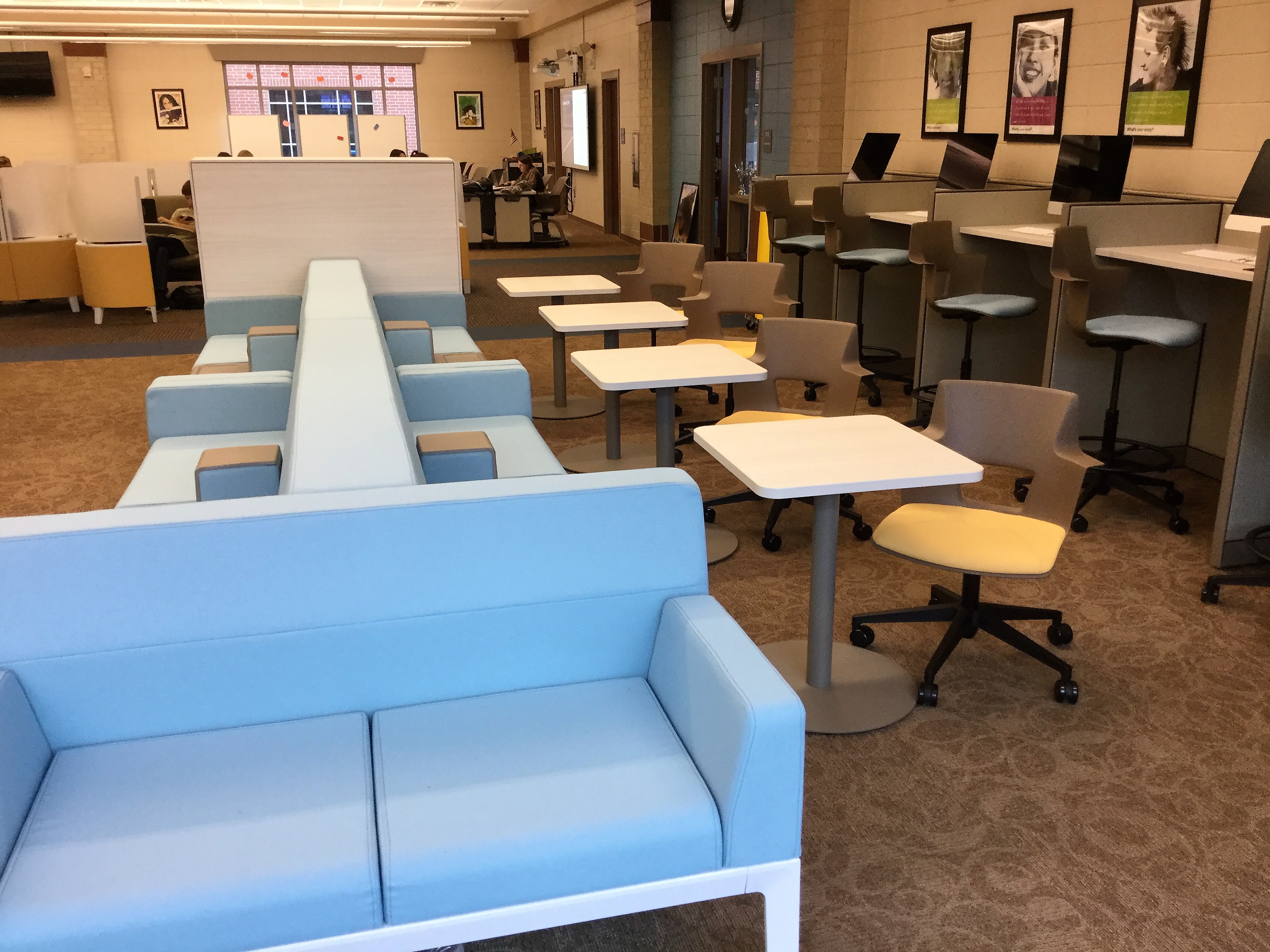 The media center at a local high school focuses on a variety of settings located throughout the space. It has a flexible classroom, private work area and a lounge area where, according to the faculty, "The students gravitated to [the new space] and immediately and intuitively knew how to use it." These spaces allow students and instructors the freedom to choose the space appropriate for different kinds of learning.
"The students gravitated to the new space and immediately and intuitively knew how to use it."
Having the choice, and being able to choose, empowers students and teachers to be more productive. Whether it's a quiet place for individual study, a space to work on a group project or another location they choose simply to make their need that day for focus time.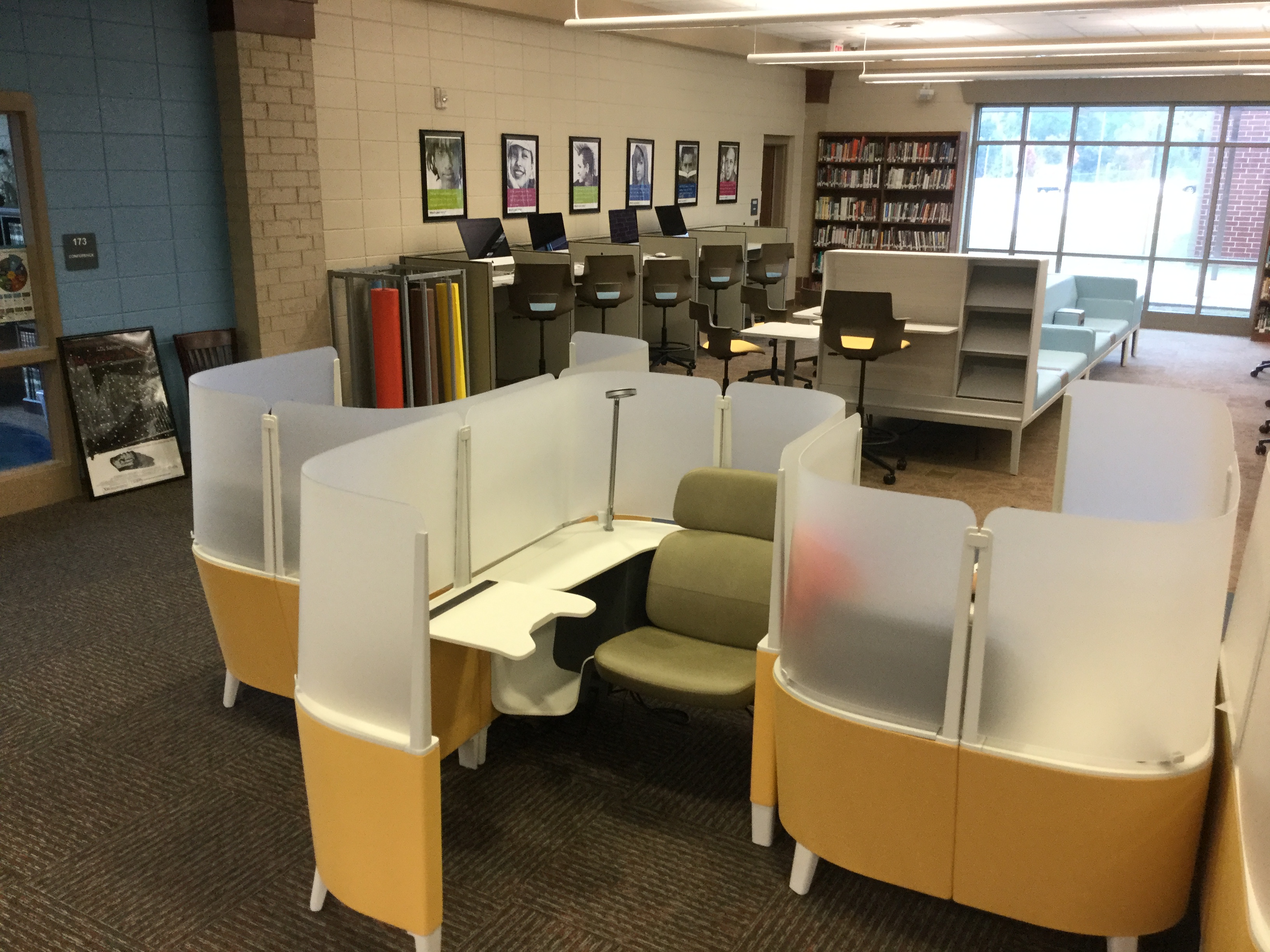 Kelsey Kees, the interior designer on the project, embraced the school spirit by incorporating the school's colors into the new furniture. The faculty and students gave nothing but positive feedback about the new space, they feel that "The colors and flexibility add a new level of excitement that the old stuff just didn't have." We're thrilled to see the school adjusting to their new Media Center so well!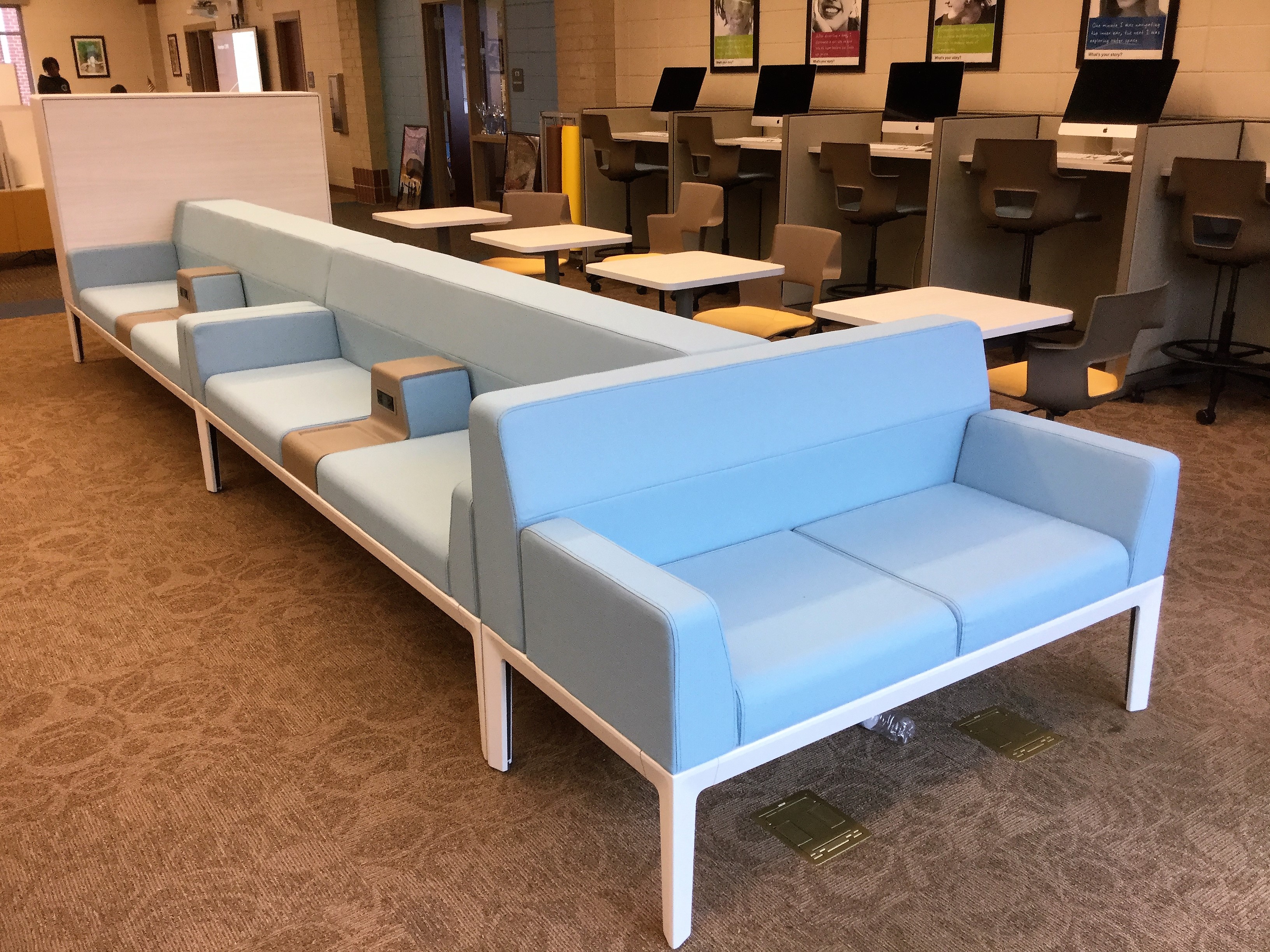 "The colors and flexibility add a new level of excitement that the old stuff just didn't have."
A local University is also embracing a new Active Learning Environment. They worked with Young Office to design new spaces in their economics department. The intent of the design is to promote collaboration and easy adaptations to a variety of different modes, including group mode, lecture mode, large group discussion mode, lounge mode, and private mode. Depending on the space, any or all these modes are a possible function.

This design helps make sure that students have the best physical and visual access possible, giving every student the best seat in the house and allowing the instructor and student access to each other. Mobile furniture was used in the two classrooms to allow for flexibility throughout class sessions to support lectures and collaboration amongst large groups or small groups. Personal whiteboards were also incorporated for group engagement and test-taking dividers.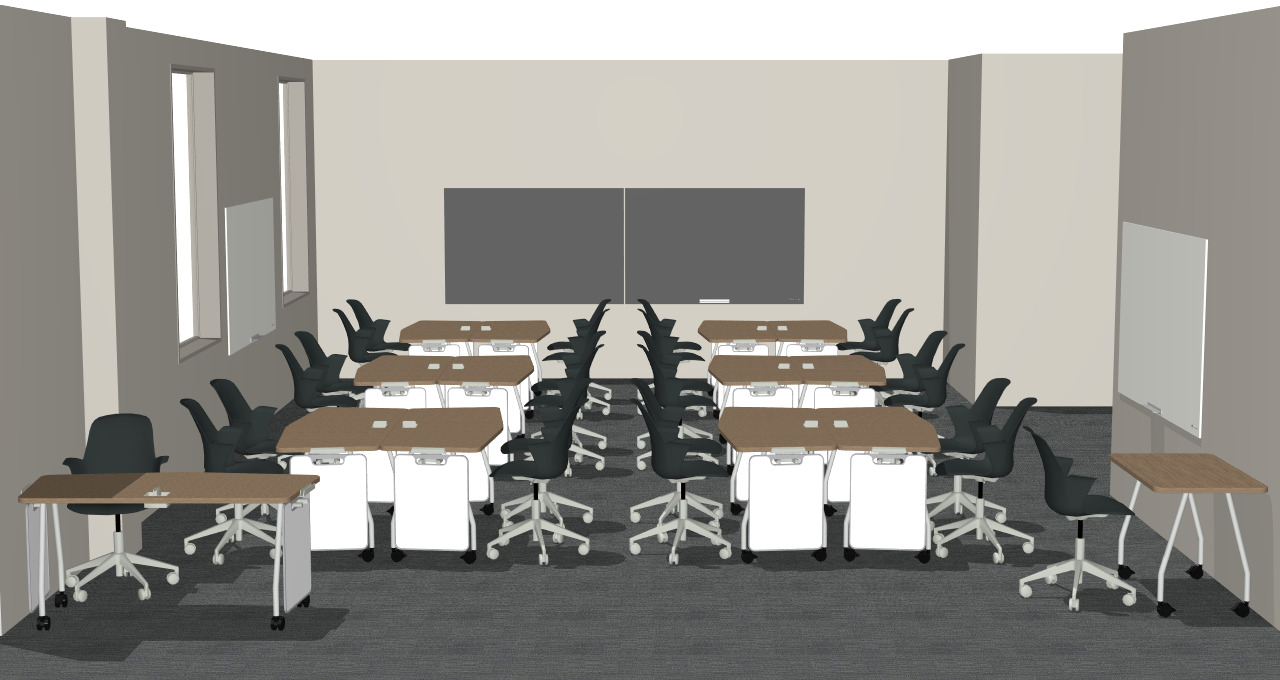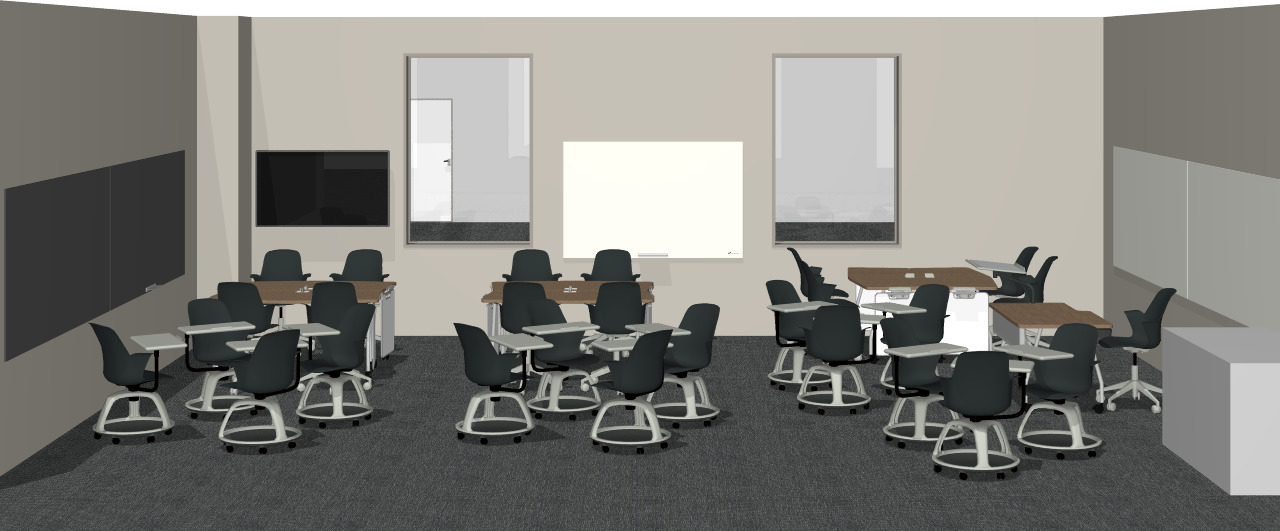 The new setting was a big change compared to previous economics classrooms, one professor said, "The interaction is completely different but in a good way. It is much better." We were pleased to hear nothing but positive feedback from both teachers and students, "Why wouldn't I teach all my classes here? It has really changed the way our instructors teach, and students learn." Another teacher exclaimed the new space, "Feels like we've moved into the 21st century!" The feedback we have received about the Active Learning spaces we have designed has been overwhelmingly positive from both faculty and students, let us know if your school is ready to adopt the Active Learning Environment!